About industrial water
Many companies are large water users but do not consider the management of their water resources to be a core activity. They therefore increasingly call upon the expertise of De Watergroep for the optimisation of their internal water flows, the supply of process water, or the reuse of wastewater within their production processes. Within De Watergroep, the Industry and Services business unit guarantees the proper implementation of such projects.

Design, Build, Finance & Operate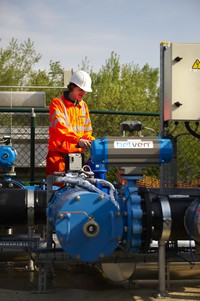 Industrial water projects invariably take the form of customised solutions. Based on the available sources, we identify the most appropriate method to guarantee the required water quality and quantity. The Industry and Services business unit maps out the company's internal water flows and develops alternatives to optimise the water consumption, based on the available sources. This optimisation usually implies significant savings in water pumping, treatment and discharge costs. The available sources may be groundwater or surface water, but also wastewater or reusable process water. The quality of the water supplied depends on the customer's requirements (e.g. cooling water, drinking water, demineralised water, etc.). The plant is generally built on the customer's site, also resulting in reduced supply and distribution costs.
The business unit typically implements its industrial water projects in the form of DBFO contracts (Design, Build, Finance & Operate). This means we do not only supply the necessary know-how in relation to the customer's specific requirements, but also construct the water treatment plant tailored to the customer's needs. From design to construction and from financing to operation of the facility. For this, the business unit can rely on an extensive team of water treatment experts and engineers within De Watergroep.

Experience in various sectors
In recent years, we have developed various process water installations. De Watergroep has captured a sizeable market segment, especially in the food and chemicals sectors. An overview of our customers:
Chemical industry
Healthcare sector
Food industry
Post-treatment of industrial water
Own pilot plant and drilling team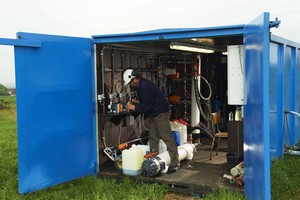 The Industry and Services business unit developed its own mobile pilot plant which has already been deployed at various companies. This allows on-site investigations to be conducted for selecting the most appropriate techniques to obtain the required process water quality from the available water source. In this pilot facility, the various techniques used during normal operations (including ultra-filtration and reverse osmosis) are carried out on a small scale. This should enable the business unit and the customer to make decisions regarding the necessary investments and the techniques to be used.
It proved so successful that a second pilot plant was recently put into service. In addition, we have our own drilling team for the drilling of new wells or the regeneration of existing water wells.

Projects abroad
In addition to process water projects, the Industry and Services business unit also implements projects abroad. The know-how and expertise acquired in the water sector by De Watergroep, is used to develop drinking water projects in countries in the southern hemisphere. Current ongoing projects: