Drinking water supply in Chile
Here, De Watergroep participated in a water supply project in Chile within the framework of the Flemish Partnership Water for Development. The aim of the project was to further develop the water supply in the fishing village of Punta Chorros. This project was completed in May 2013.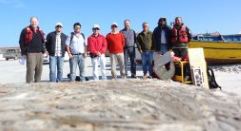 The project is entitled "Water for development: Capacity expansion of the water supply system in Punta Chorros, Coquimbo in Chile". It is part of a cooperation programme with University Ghent, PROTOS and the Department International Flanders. Cazalec, a Unesco-supported research centre, acts as local partner. Within De Watergroep, the Industry & Services business unit is closely involved in the project.
The project in Punta Chorros was selected because a properly functioning infrastructure expertly managed by local partners was already in place. Some 17 km further down the road, a well supplies 160 or so connections in the village. The infrastructure was commissioned in 2006, but quickly proved inadequate to absorb the growth of the village, which, thanks to its location and varied marine fauna, has the potential of developing into a centre for sustainable tourism.
Drinking water and sanitation for 750 inhabitants
The purpose of the project was to increase the capacity of the existing drinking water supply in the coastal municipality of Punta Chorros, but also on the island of Islas Damas. The primary target group were the 750 inhabitants of Punta Chorros. The population consists mainly of fisherman, some of whom also develop modest activities in the tourism sector. They are closely involved in the project through the local drinking water committee. In addition, some 40,000 people visit the marine reserve every year. A better drinking water supply makes it possible to halt the rural exodus and to lay a healthy foundation for sustainable and ecologically responsible tourism.
Water is extracted from the sea and pumped to the water production centre, where it is further treated by reverse osmosis. The water production centre runs entirely on solar panels and is a fine example of sustainable water supply in the region.
The drinking water installation went on line in May 2013. For this project, De Watergroep provided advice and financial support, and started up the installation. We also provided training on the operation of the installation. In the meantime, the installation has officially been handed over to the National Forestry Corporation (CONAF). They have assisted in the operation of the water production centre since May 2013.
The installation was officially inaugurated in 2014, which was widely covered in the local Spanish-speaking press.