Drinking water and sanitation in Toamasina, Madagascar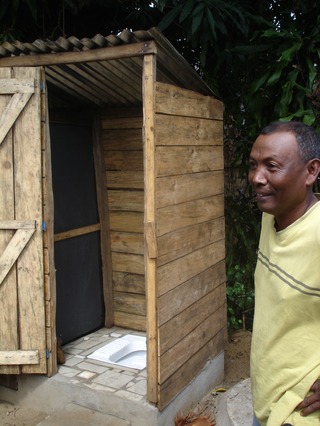 Since 2009, De Watergroep has been collaborating with the Protos NGO on a water and sanitation project in Toamasina, the second city of the African island of Madagascar. Toamasina is situated on the east coast, 250 km of the capital city of Antananarivo, and has 270,000 inhabitants. Only 55,000 have access to the public drinking water system. Toamasina is the main port of Madagascar and therefore an important economic centre.
This project aims to further improve living conditions for the population in three working-class districts. More than three-quarters of the population lives below the poverty line. Less than 20% of the households have minimum sanitary facilities and over 60% get their water from contaminated sources.
In addition, we are working on a public-public partnership between De Watergroep and Jirama, the public company responsible for water supply in the urban agglomerations of Madagascar, with Protos as facilitator.
From 2009 to 2012
In the period 2008-2010, three exchange visits took place between De Watergroep and Jirama. This resulted in the development of a knowledge transfer plan to split the distribution network into sections, and then locate leaks, to commercially manage the customer base and to develop a quality control system. An expansion of the water production centre was also identified as a necessary step towards the further development of the distribution network.
In a first phase, 300 families received a clean latrine. A latrine consists of a clean squat toilet with a wooden superstructure, and one or two septic tanks. One school received new latrines, and in three schools the latrines were refurbished and fitted with a hand-wash facility. In addition, investments were made in social mobilisation and education of the population on hygienic behaviour. One of the initiatives was a puppet show, which was performed more than 100 times.
These initiatives were developed further in a second phase: 8,000 people received access to drinking water and 1,000 pupils of the schools in the districts received training on hygiene and sanitation. In addition, the production and distribution capacity of the JIRAMA was analysed and improved.
Programme 2013-2015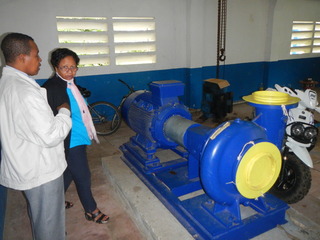 In the period 2013-2015, the partners are working, among other things, on an expansion of the drinking water network and more sanitary facilities. The collaboration between De Watergroep and JIRAMA will further evolve into a public-public partnership.
Objectives:
Improve the level of service provided by IRAMA, the public water company
Strengthen and expand the drinking water network in Toamasina for 25,000 people in the popular districts
Encourage 200 families in these districts to change their behaviour in relation to hygiene and sanitation, through sanitary facilities, education and awareness raising
Stimulate local partners to assume their responsibility as set forth in the legislation and the signed agreements.
Main activities:
increase the production capacity of the pumping station
divide the distribution system into sections
optimise the monitoring of JIRAMA's drinking water network
build and connect public water kiosks to JIRAMA's network
build sanitary facilities for 200 families
awareness raising on hygiene via district committees and schools
locate and resolve network losses
support the technical service department of drinking water company JIRAMA.
Partnership
The project in Toamasina is a collaboration of Protos, De Watergroep and the Flemish Partnership Water for Development.
In addition, De Watergroep and SEDIF (Syndicat des Eaux d'Île de France) have signed a cooperation agreement for this project. This took place during the sixth World Water Forum in Marseille on 14 March 2012. SEDIF is France's largest public drinking water company.