Collaboration with Tiger Power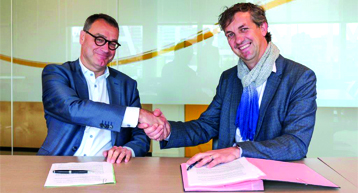 Climate change is causing increasingly more droughts and drinking water scarcity in Africa and Asia. To offer an answer to these challenges, Tiger Power and De Watergroep are developing a mobile drinking water system that runs on solar power.

Container as building block
De Watergroep and Tiger Power recently signed a declaration of intent to work together on the development of an energy-efficient drinking water production unit. Built in a converted container, the system is easy to transport and set up. The same approach is already being used by the Flemish scale-up Tiger Power in its renewable energy solutions.

Hydrogen as energy carrier
Both parties are looking to build experience in the generation of renewable energy and the decentralised production of drinking water. This should lead to a growing insight into the role of water and hydrogen gas as secondary energy carrier.

Flemish relevance
There is a strong belief that the insights will also be relevant to Flanders in the long term. Storage plays a key role in the transition to a renewable energy system. Hydrogen can be used flexibly to compensate for fluctuations in renewable energy, thus guaranteeing the stability of the power grid.

Remote monitoring
Finally, both companies also want to gain experience in remote monitoring of drinking water quality. Lab-on-a-chip technology can be an important lever to improve the worldwide quality of drinking water, which in turn benefits public health.

Flying start
Tiger Power and De Watergroep will immediately start work on some concrete projects:
Kyenjojo - Uganda:
Tiger Power is currently installing local energy production units with mini-grid in three Ugandan villages. These projects will be expanded with the drinking water production unit.
Galibi – Surinam:
De Watergroep has been active in Surinam for some years now and has extended the drinking water supply in the coastal municipality of Galibi. The existing energy infrastructure will be optimised based on Tiger Power's product portfolio.
Optimisation of Storager water consumption
Tiger Power sees a number of opportunities to further optimise its Storager (hydrogen-based energy-storage container). De Watergroep has the relevant knowledge and experience to contribute to this.


About the partners
De Watergroep is an integrated water company that provides services throughout the entire water chain. Through a pipeline network spanning 34,000 kilometres, it supplies 3.2 million customers in 180 Flemish municipalities. This makes De Watergroep the largest drinking water company in Flanders.

De Watergroep has evolved from a traditional drinking water company to an integrated water company providing services throughout the entire water chain. Besides the production and distribution of drinking water, the company has in recent years been focusing more and more on process and waste water and on the development of circular water technologies, mainly for industrial clients.

Hans Goossens, Director General of De Watergroep: As a public water company, we also attach great importance to social commitment. For instance, in the past few years we have been using our knowledge and expertise for projects on sustainable drinking water supply in developing countries.

Tiger Power is a Flemish innovative technology company that focuses on 'renewable energy solutions' for remote areas without a (reliable) electricity grid. The systems eliminate the need for polluting diesel generators. Tiger Power has patented systems for solar power with integrated battery storage and for long-term hydrogen-based storage. What's more, the company commercialises small-scale wind turbines and has developed, in collaboration with VITO, an Energy Management System that intelligently controls all these sustainable energy components.

Chris Prengels, CEO of Tiger Power: When constructing stand-alone power plants in developing countries, we are often asked to also supply (drinking) water in addition to renewable energy. The collaboration with De Watergroep is an important step in our ambition to achieve a lasting socio-economic impact in developing countries. Capitalising on the nexus of renewable energy – drinking water is crucial to this end.