Water production centre Kluizen
From the Kluizen water production centre, De Watergroep supplies drinking water to a large part of Northeast Flanders, from the Meetjesland to the Waasland region. This centre can produce up to 60 million litres of drinking water from surface water sources.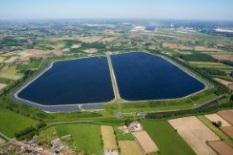 The Kluizen water production centre was commissioned in 1974 and expanded with a second reservoir in 1996. The original production capacity amounted to 40,000 cubic metres of drinking water per day. In October 2007, an additional production centre was put into service, increasing the capacity to 60,000 cubic metres (or 60 million litres) per day. This capacity will be further increased in the future to 80,000 cubic metres per day.
The reservoirs have a total capacity of 10,9 million cubic metres. The surface water stored in these reservoirs originates from a water catchment area of no less than 25,000 ha. It comprises the Burggravenstroom, Kale and Meirebeek drainage ditches, a portion of the Lovendegem-Zomergem drainage ditch and the Poekebeek reservoir.
Green energy in Kluizen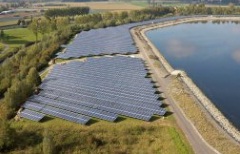 De Watergroep has for years been working on more efficient use of electricity. In 2011, a solar farm was constructed on the dikes of the reservoirs in Kluizen. A 7 ha area accommodates 14,600 solar panels with a total capacity of 4.2 MWp (megawatt peak), generating 3.8 MWh (megawatt hour) of electricity per year. De Watergroep uses 80% of this electricity for its water production centre, the remainder is injected into the ELIA power grid. The solar farm avoids emissions of 2,550 tonnes of CO2 per year. The new solar farm shows that ecology, economy and spearhead technology can perfectly go hand in hand.
Visit the water production centre in Kluizen
The Kluizen water production centre regularly organises open days. In addition, guided tours for groups can be arranged. The following rates apply:
Guide: €75 (1 guide per group of up to 30 people)

+ €5 administrative costs