Eisden
In collaboration with the municipality of Maasmechelen, you can visit our water production centre in Eisden, combined with a stroll through the Greven nature reserve, on every third Sunday of the month from April through to October.
From mine subsidence to drinking water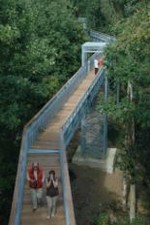 Today, Eisden Dorp (Maasmechelen) characterises itself as a 'subsided' village as a result of past mining operations. This caused Eisden Dorp to become located lower than the water level of the canal. As Eisden Dorp continued to subside, the level of the canal dikes had to be raised time and again. In addition to the elevation of the canal, water is pumped off continuously to prevent Eisden Dorp from flooding.
Here, De Watergroep makes a virtue of necessity: the water that is pumped off is used for the production of drinking water. Almost half of our Limburg customers drink water from Maasmechelen, some 17 billion litres every year. This water is pumped up in the Greven and Meeswijk regions. The local layers of sand and gravel produce water of good starting quality, which we then aerate, treat and supply as drinking water to the region.