Responsible use of water through exchange-learn
On 8 July 2009, Filip Vancoillie left for an 11-month stay in Bolivia within the framework of the 'exchange-learn' programme of the Agency for Government Personnel (AGO) of the Flemish authorities. This expedition is not the first mission for the young engineer of the Project Engineering department. Five years ago, he already worked for 6 months on an agricultural and irrigation project in the high mountains of Ecuador.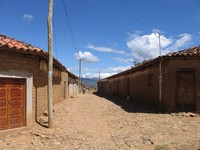 The "exchange-learn" programme focuses on innovation within entities of the Flemish authorities. An employee completes an internship with another organisation as part of an exchange project, and then applies what he/she has learnt for targeted innovation within his/her own company. The exchange partner may be an organisation of the Flemish authorities, a private company or an organisation abroad.
Filip Vancoillie submitted a project proposal on behalf of De Watergroep. Filip's proposal, together with 12 other proposals, was selected for funding by the AGO. During his career break (from mid-July 2009 to mid-June 2010), he will be engaged in voluntary work for two Belgian NGOs in Bolivia. At one of the two partners, he will be working on water. The funding by the AGO will be used to finance initiatives upon his return in Belgium.
What is the purpose of your 'exchange-learn' project?
The overall aim of the project is to raise awareness on the theme of water. This is done both within and outside De Watergroep, and involves 3 steps, via cultural exchange with the local population, via awareness raising in collaboration with the exchange partner, the NGO Bevrijde Wereld, and with the VVSG (Association of Flemish Cities and Municipalities) and finally via the deployment of new initiatives and collaborations on the theme of water.
What exactly is the project all about?
The NGO in Bolivia for which I will be doing voluntary work on the theme of water, is ICO. ICO is the local partner of the NGO Bevrijde Wereld (New World) and coordinates irrigation projects in various communities in Bolivia. The actual voluntary work is carried out in the municipality of Pasorapa, in the Andes mountains.
I will be focusing mainly on three issues that are burning topics within De Watergroep: sustainable water extraction, the changing water quality of our sources, and climate change. Awareness raising on water is crucial for each of these 3 issues.
To read up on the experiences of Filip in Bolivia, please visit http://filipinbolivie.blogspot.com.