Water production centre De Gavers
At De Gavers (Harelbeke-Stasegem), De Watergroep produces drinking water from surface water sourced from the Bossuit-Kortrijk Canal. The Scheldt water is pumped directly, without buffering, from the canal for subsequent treatment.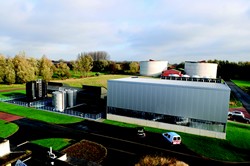 Until 1995, the Kortrijk-Harelbeke region was supplied with drinking water via groundwater pumped up from the major carboniferous limestone aquifer in the south of the province. To spare the carboniferous limestone aquifers, to accommodate increasing consumption in the province, and to make the province of West Flanders less dependent on supplies by other drinking water companies, the surface water catchment along the Bossuit-Kortrijk Canal was commissioned in the spring of 1995.
The initial daily production capacity amounted to 15,000 cubic metres of drinking water. Additional investments in a second production line made it possible to raise this volume to 30,000 cubic metres per day from June 2005.
At the water production centre, the Scheldt water undergoes pre-treatment until it has swimming water quality. It is then directed to the Gaver pond where it stays for 4 months. In a final treatment step, the water is returned to the production centre for post-treatment.