Veurne Snack Foods (PepsiCo)
Drinking water companies IWVA (Intermunicipal Water Company of the Veurne Region) and De Watergroep have joined forces in a large-scale water treatment project at Lay's production site in Veurne, which will allow 60% of the water to be reused. Construction was started in the autumn of 2012. This water conservation project will greatly contribute to the protection of the groundwater reserves in Flanders.

Crisps production and water consumption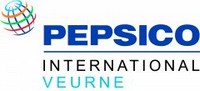 In Veurne, PepsiCo produces crisps and snacks for Lay's, Doritos and Smiths for the European market. Over the past 15 years, the Veurne-based location has succeeded in making significant environmental improvements. Thus, electricity consumption was brought down by 30% and gas consumption by 22%. Despite the fact that water consumption per kilo of produced product was also reduced by 40%, some 300,000 cubic metres of water is still being used every year. As part of its efforts to make its operations more environmentally friendly, PepsiCo has signed a contract with IWVA and De Watergroep for a water filtration unit that will allow almost 60% of this water to be reused. This will be mainly rinse water that is used to wash the potatoes. In this way, PepsiCo will save at least 180,000 m³ water annually, which corresponds with the annual water consumption of 4,400 Flemish citizens.

The installation
This is the first time in Flanders that two drinking water companies join forces to carry out a custom water project. De Watergroep and IWVA ensure the construction, pre-financing and operation of the water treatment plant. PepsiCo Veurne is guaranteed water that meets the most rigorous requirements for drinking water quality. The system is fed with water that has first gone through the existing water treatment plant of PepsiCo Veurne. The additional water treatment for reuse is built around ultra-filtration and one-stage reverse osmosis. In reverse osmosis, water is pumped through a membrane containing very fine pores. The water flows through the membrane and the excess minerals are stopped. De Watergroep and IWVA will supply drinking water based on water from the water treatment plant. The annual supply capacity amounts to 215,000 m³ of process water of drinking water quality. The total investment amounts to almost half a million euros.