Rousselot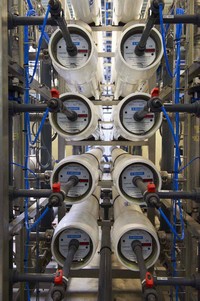 Rousselot is the world's biggest gelatine producer. The company is part of the Ingredients division of the VION Group, an international food group headquartered in the Netherlands. De Watergroep's business unit ensures the supply of process water based on water from the Ghent-Terneuzen Canal.
Water supply is a key factor in Rousselot's business processes. In 2009, the company decided to replace its existing water treatment system with a new and more efficient installation. This led
Rousselot to draw on the specific expertise of De Watergroep.
At Rousselot, De Watergroep ensures:
the design, construction, pre-financing and operation of a canal water treatment system on the Rousselot site
the design, construction and pre-financing of a technical building and surrounding piping system
guidance on and pre-financing of the client's investments.
The annual supply capacity amounts to 750,000 m³ of process water of drinking water quality.