Marine Harvest Pieters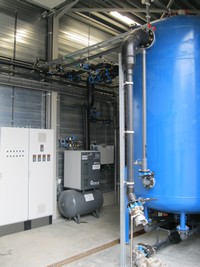 Marine Harvest Pieters based in Bruges concluded a contract with De Watergroep for the supply of process water. Some 80,000 cubic metres of process water will be supplied annually. In addition to the water treatment, De Watergroep is here too responsible for the operation of the groundwater extraction.
Marine Harvest Pieters is part of the biggest global player in the fish and seafood industry. The Norwegian Marine Harvest Group has a global leading position in salmon aquaculture. The Belgian arm of the company specialises in the production and marketing of a wide range of fresh, smoked, pre-packaged, frozen and breaded fish products. The company employs 460 people in Flanders.
Being a food company, the water used must be suitable for both direct and indirect food contact. The company went looking for a partner who had the necessary know-how to allow the available and licensable quantities of groundwater to be used in the process. This is how the company came into contact with De Watergroep's Industry & Services business unit.
Initial studies by De Watergroep showed the groundwater to be of good microbiological quality - a prerequisite for a food company. To enable the water to be used throughout the production process, a better concept for extraction, treatment, storage and distribution of the groundwater was needed.
Based on the study results, De Watergroep developed a concept for the siting of 4 wells and for water treatment techniques. The water treatment plant consists of activated carbon and UV disinfection with an additional storage tank. The annual supply capacity amounts to 80,000 m³ of process water of drinking water quality.
The supply of process water is already underway. Its quality is guaranteed by a monitoring programme based on samples and analyses. De Watergroep ensures the operation of both the groundwater extraction and the water treatment, providing the company with sufficient and high-quality process water at all times.