Eastman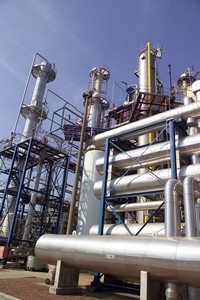 The Ghent-based Eastman produces industrial basic chemicals. For Eastman, De Watergroep built a process water plant that annually produces 700,000 m³ of process water based on surface water from the Ghent-Terneuzen Canal. The installation combines a two-stage ultra-filtration unit with a two-stage reverse osmosis system.
Eastman uses some 620,000 m³ of process water per year. It is high quality demineralised water that is mainly produced from groundwater. To guarantee the reliability of its processes in the future as well, the company was looking for an alternative for this groundwater as well as for a partner who had sufficient expertise to properly manage the project.
De Watergroep conducted a theoretical study which showed the use of canal water to be technically and financially feasible. Subsequent pilot tests proved the selected process to be effective in ensuring stable operation and good efficiency.
Based on these results, De Watergroep designed a new system using the existing water treatment facilities wherever possible. De Watergroep also ensures the pre-financing and operation of the installation. The quality of both the canal water and the process water is continuously monitored based on a sampling programme.