Bravi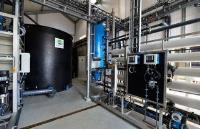 Bravi, a potato processing company located in Sint-Truiden, aims to rationalise its water consumption by treating effluent (purified wastewater) and reusing it as process water. De Watergroep's Industry & Services business unit ensures the project development and monitoring.
In 2006, De Watergroep and Farm Frites, the Lommel-based parent company, had already signed a DBFO contract for the supply of process water based on reused effluent. Based on the positive experience with this project, the other production sites of Farm Frites were also identified as candidates for similar projects.
To allow for effluent recovery at Bravi, the company's wastewater treatment facility first had to undergo a major extension and optimisation. By early 2010 the wastewater treatment plant was sufficiently stable and theoretical and practical research into effluent recovery could be initiated. At the end of 2010, De Watergroep carried out a number of successful pilot tests.
De Watergroep and Bravi subsequently entered into a 10-year DBFO contract. In practice, De Watergroep will ensure:
•

the design, construction, pre-financing and operation of a process water treatment plant on the Bravi site
•

the design, construction and pre-financing of a technical building and surrounding piping systems.
The installation is built around ultra-filtration and single-stage reverse osmosis equipment and has an annual production capacity of 105,000 m³ process water of potable quality.