Water production centre De Blankaart
At De Blankaart (Woumen-Diksmuide), De Watergroep produces drinking water based on surface water from the IJzer and the polders of the Blankaart region.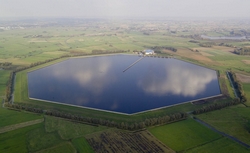 In 1972, De Watergroep built a large, octagonal concrete reservoir, measuring 120 football pitches in size (60 ha), in the IJzerbroeken, near De Blankaart nature reserve. The reservoir can hold up to 3 million m³ of water: more than enough to supply one-third of the coastal province with drinking water every day.
This water is pumped up from the IJzer and the surrounding waterways and then treated at the water production centre next to the reservoir to produce tasty and healthy drinking water. Powerful pumps subsequently direct the water via water pipes to the household tap.
Master Plan De Blankaart: complete renovation
In the period 2015-2023, De Watergroep is planning the complete renovation of the reservoir, the water treatment and sludge treatment facilities.